Issue 4
Dawn, mud and worries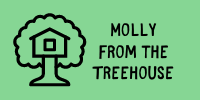 Hello, friends. If you enjoy this newsletter, please send it to someone who you think will like it too.
Inside this book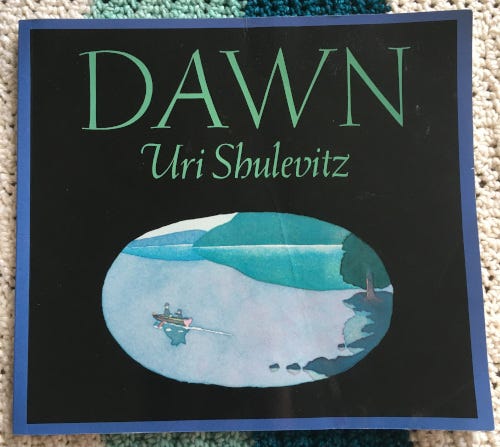 My husband has just told me he sought this book out after reading about it. I misremembered him getting it from a charity shop. I'm glad he did because it is gorgeous. It makes a great bedtime story with its muted watercolours and gentle, minimal text. The first page even just says "quiet". I always use a soft, serene voice - think meditation tape.
When it's not bedtime, your children could try:
Talking or writing about what the boy and his grandfather do for the rest of the day.

Telling or writing their own calming story of 'Dusk'.

This book creates a quiet atmosphere. Can they write and illustrate a loud book?

Experiment with watercolours. Let them explore! If they do want an idea, they could try and replicate the colour palette of the story, paint the sky out of the window or (if you can bear it) get up early and paint the dawn.

Talk about what kind of music might suit this story. Try playing it as you read. Can they create their own song or piece of music to go with it?
Outside the house
Here in South London we have had a lot of rain recently. Which means a lot of mud. Kids love it. At Forest School over the past few weeks, quite a few of the children have been spending the entirety of each session scooping water onto the ground to make a giant puddle and jumping in it.
It's physical, it's sensory, it's science, they use it for role play, it's messy, it's fun. Obviously if you are on your way to a wedding it's not ideal but I urge you to let your kids play in the mud as much as possible. Just like rain, where if you get wet you can always get dry again, even if you get muddy you will at some point be clean. It's all about choosing the right clothing. I'm thinking wellies might be a permanent fixture this autumn.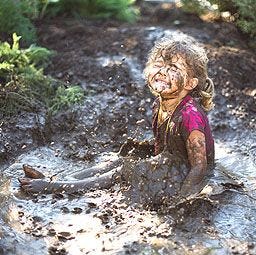 We normally have a "no wellies, no puddles" rule but today my son paddled in a particularly soupy puddle in leggings and trainers. I almost called over to stop him but managed to check myself. When you are about to stop a child, it's always worth examining the reasons behind it. Is it really unsafe? Is it annoying because you'll have to clean? What actually is the outcome of this, and is it so terrible? Today I thought "He'll get muddy. Well, he doesn't generally care about being cold, it'll dry and it's his parents fault that he's not wearing wellies. That puddle looks so tempting". So I said nothing. He stomped in the puddle and his trainers are covered in mud.
We did draw the line at running through a stream, but I'm glad he enjoyed the puddle. There's no such thing as bad weather, only the wrong clothing. And sometimes, just go for it anyway in whatever you're wearing.
Inside your head
This advice is for myself: follow your own advice. Remember when I said we should get rid of 'should'? I didn't listen. I always say that children will reach milestones when they are ready, to follow the child, not to put our own agenda on things. And then I was panicking because my son starts nursery in January and is still in nappies. We've been working on it for a while and he now is nappy-free at home with only a few accidents. But not outside the house. I know he's not three yet, I know you can't rush these things but I also know what a time-suck it is when loads of kids need changing at school! So I was periodically worrying about it. And being reminded not to.
Then yesterday - half an hour after my mum reminded me not to be anxious - he declared that he didn't wear nappies any more. He went to the park for the afternoon with his granny and didn't have any accidents. We went out today and had one and a bit. Which is pretty good, I think.
I'm not saying this will now be a swift linear progression to constant dryness, or that problems magically go away when you try and stop worrying about them. I am saying listen to your own repeated declarations of what you believe about children! Trust your own personal philosophy and instincts. Please, do it for both of us!
Out of the blue
Libraries are the best. I have started volunteering at a community library and I love it. Even if your local is only open for click and collect, get down there and use it. It's harder for local authorities to close them if they are well-used and loved by their communities.
---
See you next week,
Molly