Issue 2
Puppies, sticks and should.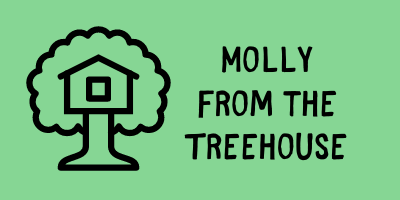 Hello, welcome to issue 2. I'm glad you're here.
---
Inside this book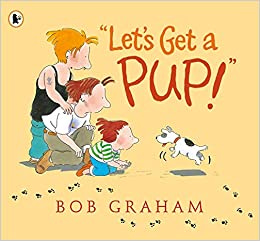 A big part of why I like this book is that I wish we could rush off from the breakfast table and get a puppy to take home just like Kate's family. The writing is also lovely. It has repetition and sweet family exchanges interspersed with parts that are quite poetic. I love the final image of the weight of the dogs preventing Kate's bed from floating away.
Bob Graham's rounded, friendly illustration style is very appealing and there is plenty to look at in the pictures. In our house we particularly like books which show untidy rooms and parents pulling on clothes that may or may not have just been picked up from the floor.
There is lots to inspire conversation when you share this book with your child. It's best to respond to what they are interested in, or comment on things that catch your eye, but here are some ideas.
At the rescue centre, which dogs in the picture do you think are which? Do you agree on the dog that is 'like a walking nightmare' or the 'take-me' dog?

I wonder how Dave and Rosy ended up at the rescue centre.

Has your child experienced loss, like Kate with her cat?

What do we see Kate and her parents doing to take care of the dogs?

How do you think Kate's life will be different now?

Why on earth did they keep leaving their breakfast? [I don't think I have ever experienced anything so urgent that I left food behind.]

What would be on your wish list of qualities to look for in a pet?
Outside the house
When you are in the forest or the park, sometimes you could do with a bit of string. Sometimes you want a pen and a notebook. Sometimes you absolutely need your full collection of whittling knives. But most of the time, you don't need anything at all.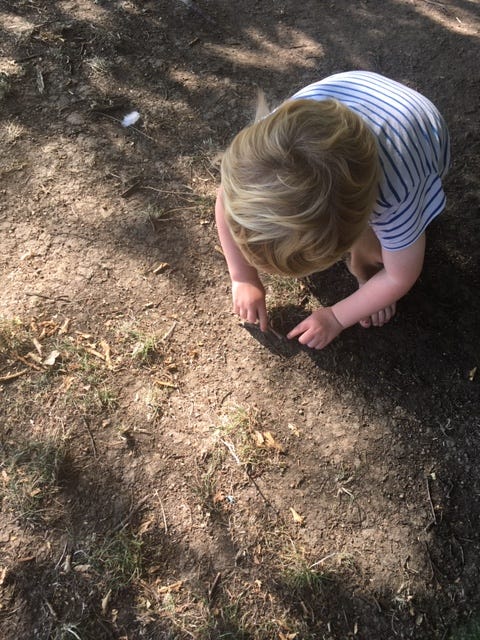 I had a nice reminder of that this week, when my son and I spent an hour or so under a tree. He used a big stick to draw in the earth and we made a campfire of smaller ones. We took it in turns to throw a stick and carry it back in our mouths. [Did I mention we'd love to get a dog?] We sat cuddled together, chatting and joking and watching a blue tit that landed in the tree.
Try that this week. Get out in nature with no agenda or plan or equipment and see what you find.
Inside your head
I would like to ban the word 'should'. It causes problems in so many areas, not least parenting. Think back to times where you have felt frustrated or upset as a parent. How many times was the root of the problem that you felt you or your child 'should' have been doing something?
We use it for milestones as well as behaviour. I saw a post on Facebook this week where a parent asked "is there a 2 year 2 month sleep regression?" And one of the replies said yes. This is mad! If someone told you your child would walk at exactly 1 year and 1 month would you believe them? What about declaring that their first word would be spoken at 17 months and 4 days? No one does that. So why do we do it with sleep? Or anything else?
Should puts so much pressure on us all. We should have lost the baby weight by now (nope). Our child should have got the hang of using the toilet (so many factors involved in this). We should keep our kids away from screens (easier said than done). By the end of the academic year in which they turn 6, children should be able to spell Wednesday (my beef with the current national curriculum could probably be its own newsletter).
We as humans seek patterns and the reassurance of measuring things but I don't believe this is always terribly helpful. We need more acceptance in our society for natural human variety. Just because other parents are managing to do something, you don't need to. Just because our child hasn't achieved something at the same time as some others, they are not 'behind'. Obviously if you have concerns about a particularly pronounced delay, seek professional advice. For the majority of us, there is just variety. Difference. Our own individual experience.
Experiment with letting go of should. This is easier said than done - I know I frequently don't manage it. But I want to get better. So that instead of crumbling under the pressure of the expectations of others or our own inner voice, we can respond to what is happening in the moment, in all its strange human variety.
Out of the blue
Have you heard of exercise? I just discovered it, it's really good. I rode my bike for the the first time in ages this week and it felt amazing to move and get tired and sweaty! Slightly concerned my entire body may have atrophied during lockdown…
---
Thank you for reading. If you're enjoying the newsletter, please forward it to a friend.
See you next Friday
Molly