Issue 3
Trains, tables, talking.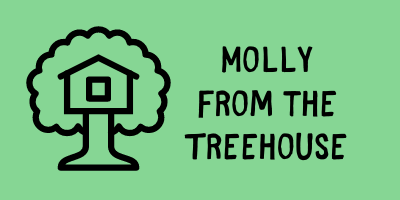 Welcome to Issue 3.
Inside this book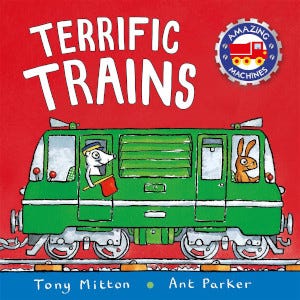 This is not the only train book in our house. Oh no. My son is a big train guy. So is my husband. In fact, I bought this book for him as a half-jokey Christmas present several years before we even had a kid. And I'm a train guy too. Love a day out at a heritage steam railway.
Terrific Trains is facts about trains in rhyming couplets. That't it. What is so great is that when you read it aloud, the rhythm of the words sound like a train going clackety clack along the track. We know it so well now that I can stop before the final word in each couplet and my son fills it in. The final page has some labelled picture of railway parts that we need to choose a favourite from each time, too.
Some ideas for after reading:
Older children can have a go at writing their own rhymes about other vehicles. Or even more about trains!

Chuff around the house as you read it, stepping in time to the rhythm. You can cut a hole in the bottom of a cardboard box, add a loo roll funnel and wear it around your waist to become a train. The ultimate dream.

Go train spotting. Yes, I went there. Younger children can just point and yell about the different engines. Some children might like drawing or keeping a tally chart. The hardcore, of course, will record the identification numbers in a little notebook. Anoraks optional.

Where do you think the animals are going on holiday to on the final page? Can you make up a story about their adventures?
Outside the house
Did you have a nature table when you were at primary school? I think I remember this, though I'm not sure if I'm just thinking of one in an Ahlberg book. Anyway, they definitely existed and need to make a comeback.
We accidentally have one. My son has a little Thomas the Tank Engine (of course) shelf thing on which all the stones and acorns he has collected have ended up. Take this as your signal that a nature table in your house does not need to be as fancy and labour-intensive as all the Insta-ready ones I saw when I did an image search for one.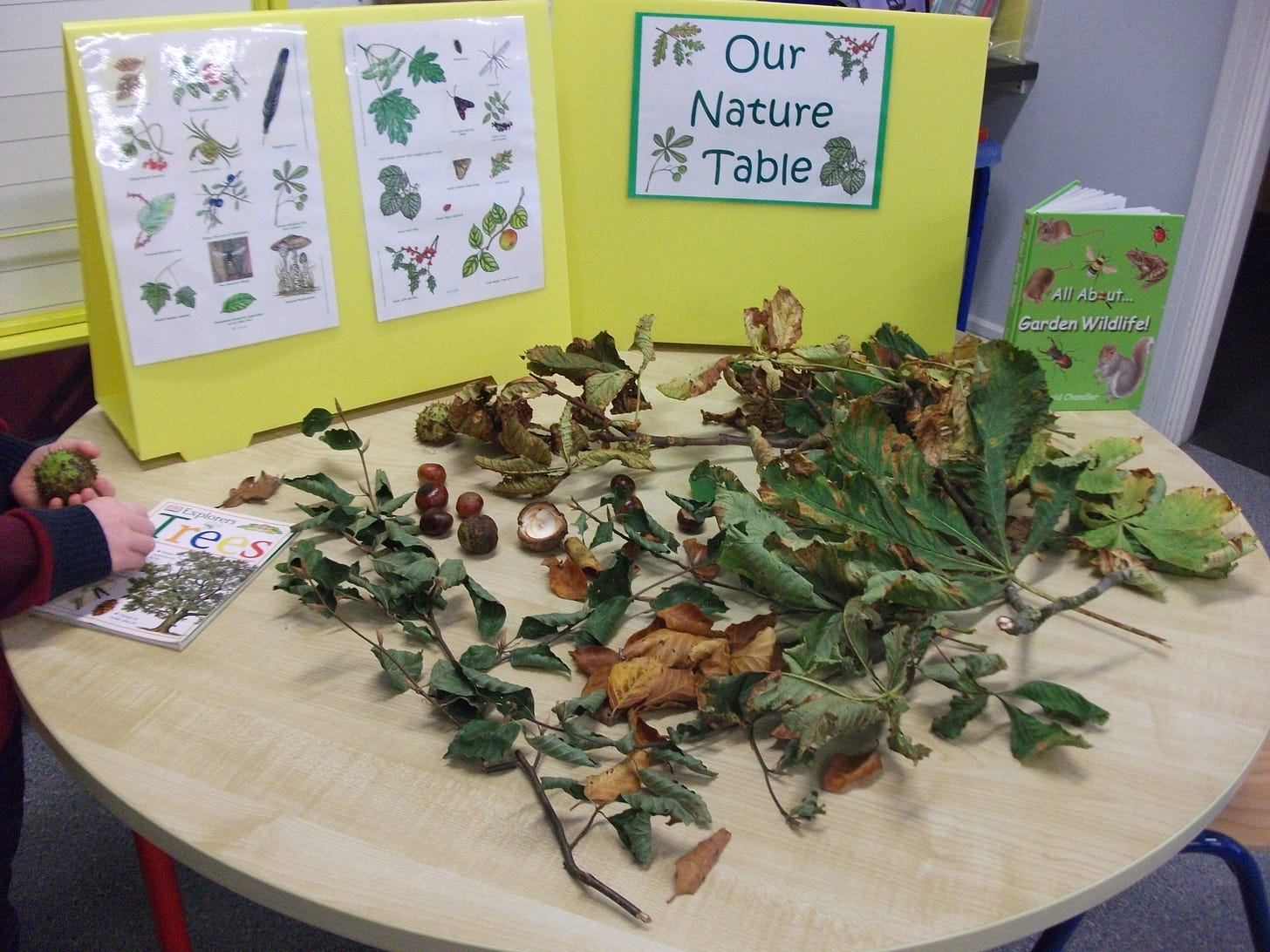 There are opportunities for making labels and artwork and all sorts, but mainly it's great just to bring home little bits of the outside. Then your child can play with them, feel them and explore them whenever they fancy. If it becomes a permanent fixture, they will literally get a feel for the changing seasons and the types of wildlife that exist in your local area.
Inside your head
Oh my goodness it's so vital to have parent friends. As well as having people available to hang out at roughly the same times as you, it's amazing to be able to freely talk about the stresses, the joys, the guilt, the madness, the poo.
I went on a walk-and-talk with a couple of other parents this week and I loved it! On a glorious sunny day, we strolled around Ladywell Fields chatting about everything under the sun. We had to stop a lot because somebody's kid needed to climb on everything but it was fine as we weren't in a rush. Especially at the moment - no one has much going on!
I hope you have found some fellow parents that you get on with well enough to be honest with each other. It's a key component of good mental health. See if there are any walk-and-talks going on near you. If not, be brave and start one. All you need to do is chuck up a date, time and place on a local Facebook group and I'm sure there will be loads of people gagging for a chat with an adult.
If you are in SE London, check out The Village and come along to the next walk in Ladywell.
Out of the blue
In a library this week (yay, some are open!) I picked up a flyer for Reading Well. This project aims to help people support their health and wellbeing through reading. There are recommendations for non-fiction titles on specific conditions and mental wellbeing as well as mood-boosting poems and stories for when you need a lift. They have a special list for children, too - these could be especially helpful for our current worrying world.
It's fantastic to see something that acknowledges the power of reading to affect our mood, includes kids and encourages people to use their library.
---
Thank you so much for reading. If you have any comments or questions, you can just reply to this email and I'll get your message. And feel free to forward it to friends that you think will like it too.
Molly